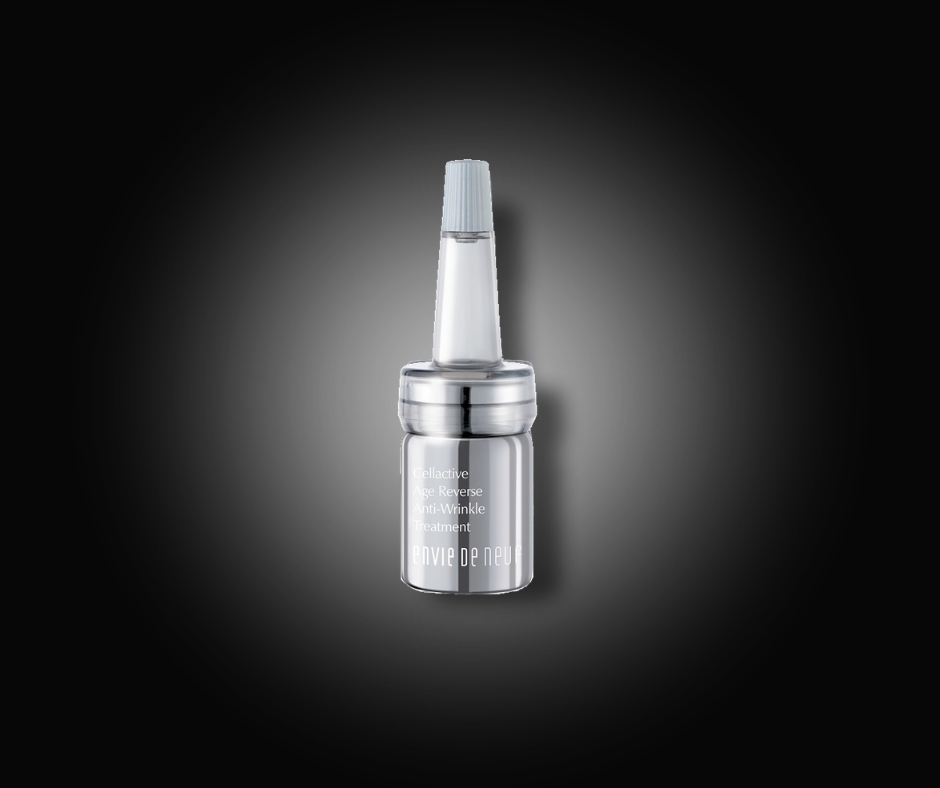 Cellactive Age Reverse Anti-Wrinkle Treatment/6ml
時空奇肌微導安瓶
---
Cellegyne Age Reverse Anti-Wrinkle Treatment/6ml
極地精粹 6周抗老修護
結合白龍膽萃取及高山火絨草植物萃取,以其強勁耐受力及高修護力,幫助抵禦環境中的傷害物質,促進肌膚活化,提升保濕度、改善暗沉、對抗細紋;生命之醣-醣基海藻醣有效修護肌膚,維持長效水潤;高海藻岐化酶幫助維持肌膚健康,維持肌膚彈力。
成分: MAJESTEM高山火絨草植物萃取、SWT-7H 白龍膽萃取、Superphyco –D 高海藻岐化酶、醣基海藻醣、玫瑰精油、銀杏葉萃取、甘草酸二鉀
使用方法:夜 / 日
---
A powerful, multi-talented serum that visibly improves wrinkles, fines lines for skin that looks smoother, firmer and youthful-looking.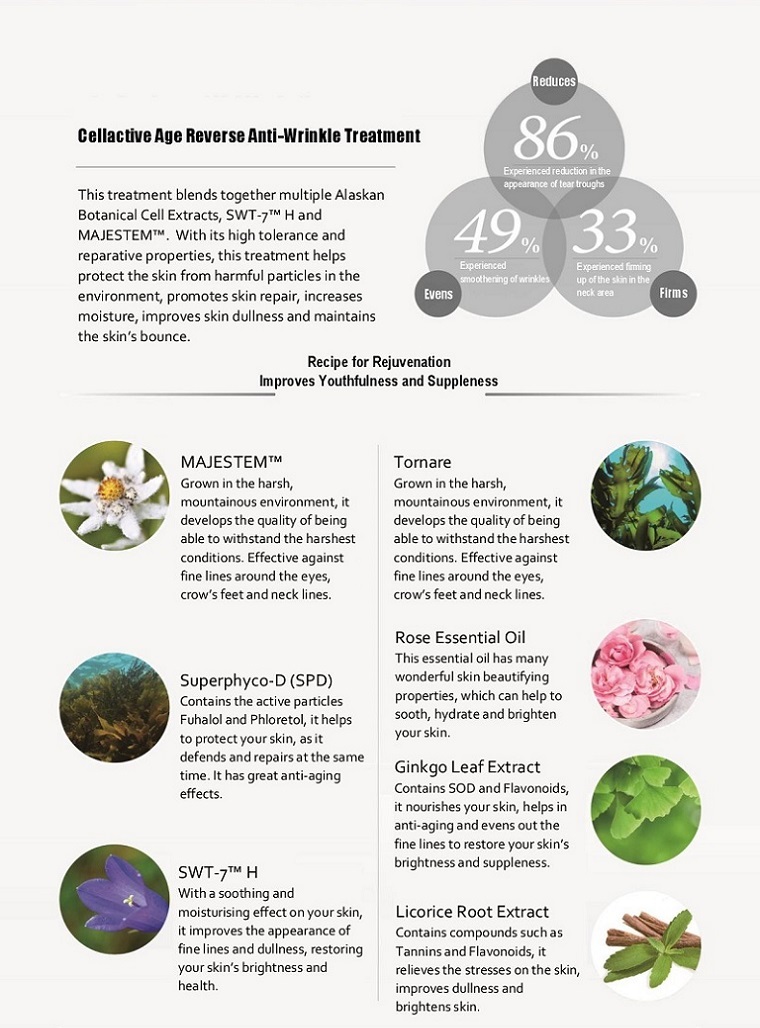 Formulated with innovative ingredients chosen for their ability to regenerate skin, this serum supports skin's natural renewal process. Swertia Chirata Extract is an anti-aging ingredient targeting to regenerate thin epidermis and improve the look of aged and wrinkled skin. Edelweiss Callus Culture Extract delivers V-shape lifting properties as well as protects skin against environmental aggressors and recreates skin tension. Trehalose offers rehydrating and water binding properties, as well as antioxidant power. Suephyco-D, an aglae extract, helps to protect and detoxify the skin aggressors caused daily stresses such as pollution and sunlight.
Functional Ingredients:
BIOSACCHARIDE GUM-1, GINGKO BILOBA LEAF EXTRACT, GLYCERIN, LEONTOINUM ALPHINUM CALLUS CLUTURE EXTRACT, CHAMMOMILLA RECUTITA FLOWER EXTRACT, HYDROLYZED COLLAGEN, SODIUM HYALURONIC ACID, SWERTIA CHIRATA EXTRACT, ALGAE EXTRACT, GLYCOSYL TREHALOSE, DIPOTASSIUM GLYCYRRHIZATE, ROSE FLOWER OIL
Other ingredients:
AQUA (WATER), BUTYLENE GLYCO, PROPYLENE GLYCOL,MALTODEXTRIN, TRIETHANOLAMINE, HYDROGENATED STARCH HYDROLYSATE, POLYSORBATE 20, DISODIUM EDTA, XANTHAN GUM, METHYLPARABEN, IMIDAZZOLIDINYL UREA, CARBOMER
Skin Type:
For all skin types, especially skins with major signs of visible aging.
Directions:
Use morning and evening on cleansed and toned skin. Take 2-3 drops and smooth over face and neck and pat gently with fingertips for complete penetration. Can be used with beauty equipment once or twice per week to enhance the result.
Caution:;
For external use only. Re-cap well after use and use up the product within one week after opening. Discontinue use if discomfort or rashes occur. Store in a cool and dry place. Avoid direct sunlight and heat. Keep out of reach of children