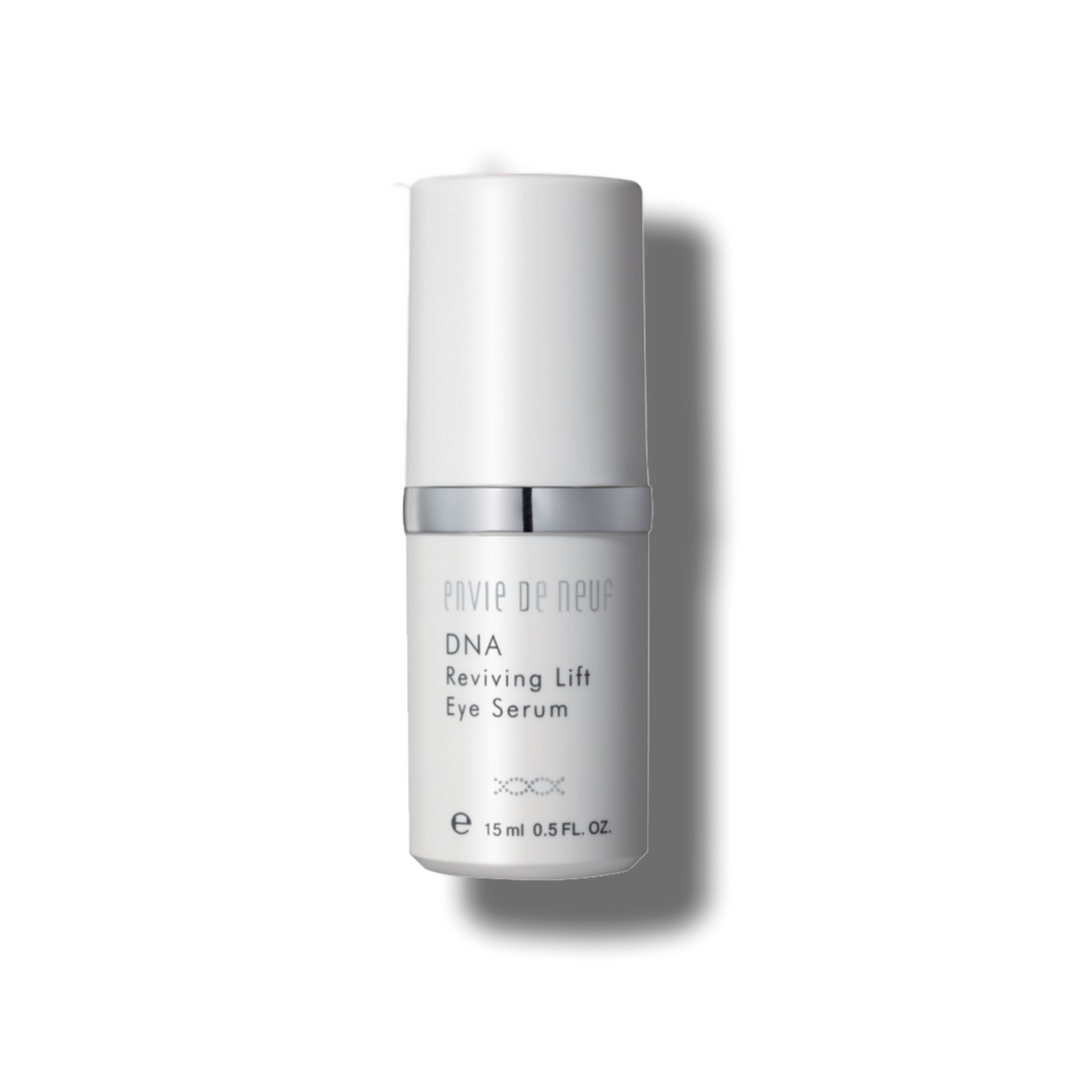 DNA Reviving Lift Eye Serum/15ml
Restore the vitality to your eyes with this amazing anti-aging eye serum. DNA Reviving Eye Lift Serum is carefully formulated to firm and tone the delicate skin around the eyes with advanced ingredients. Beech Tree Buds Extract, straight from the French Alps, helps reduce the appearance of wrinkles. Silanol Lactate Penetrates into the epidermis to repair and regenerate the skin. Hyaluronic Acid and Seaweed Extract restore moisture, leaving the skins soft and smooth. Plus the transparent, non-oily formula absorbs completely, with no sticky or greasy residue.
Direction:
Apply in the morning and evening on cleansed and toned skin. Take 1 ~ 2 pumps and dab gently around eye areas until complete penetration

Ingredients:
- Beech Tree Buds Extract (Fagus Sylvatica): A unique active developed to minimize the appearance of wrinkles and aging and to give the skin a healthier look. This unique ingredient is a "Pearl Of Youth" grown in a preserved environment (French Alps), This extract is also an eco-friendly active ingredient.

- DNA (From Salmon): Repair and regenerate the skin.
- Silanol Lactate: A combination of Silanol (Silicium Organic Derivative) and Lactic Acid. It penetrates easily through layers (Stratum Corneum) and links itself to cutaneous tissues of the epidermis. Due to its unique structure it has several properties proven to help moisturize, repair, protect and reverse the signs of aging.
- Sodium Hyaluronate (Hyaluronic Acid): Able to hold more water than any other natural substance—up to 1000 times its weight in water! Thanks to these attributes, when applied to the skin it can reach deep down into the dermis to combine with, maintain and attract water, as well as to promote skin/blood microcirculation and nutrient absorption and maintain normal metabolism. And thanks to its super-sized Hydrating properties will result in a smoother and softer skin with decreased wrinkles and an all-around fuller appearance.
- Seaweed Extract: High an vitamins A, B - complex, C and E. Has antioxidant and anti-inflammatory properties to soothe and tone the skin.
立體淨白瞬效眼部精華
---
DNA Reviving Lift Eye Serum

主要成分:矽醇乳酸複合成份Silanol Lactate(Sodium Lactate Methylsilanol)、紅藻、法國阿爾卑斯山山毛櫸樹芽萃取、鮭魚魚白萃取、玻尿酸鈉




功效:幫助保持眼部肌膚長效潤澤、撫平細紋與皺紋,展現明亮雙眸




使用方法:日/夜




注意事項:敏感肌膚請小心使用。若有不適感或肌膚異常反應,建議您暫停使用,必要時請諮詢皮膚科醫師。




">