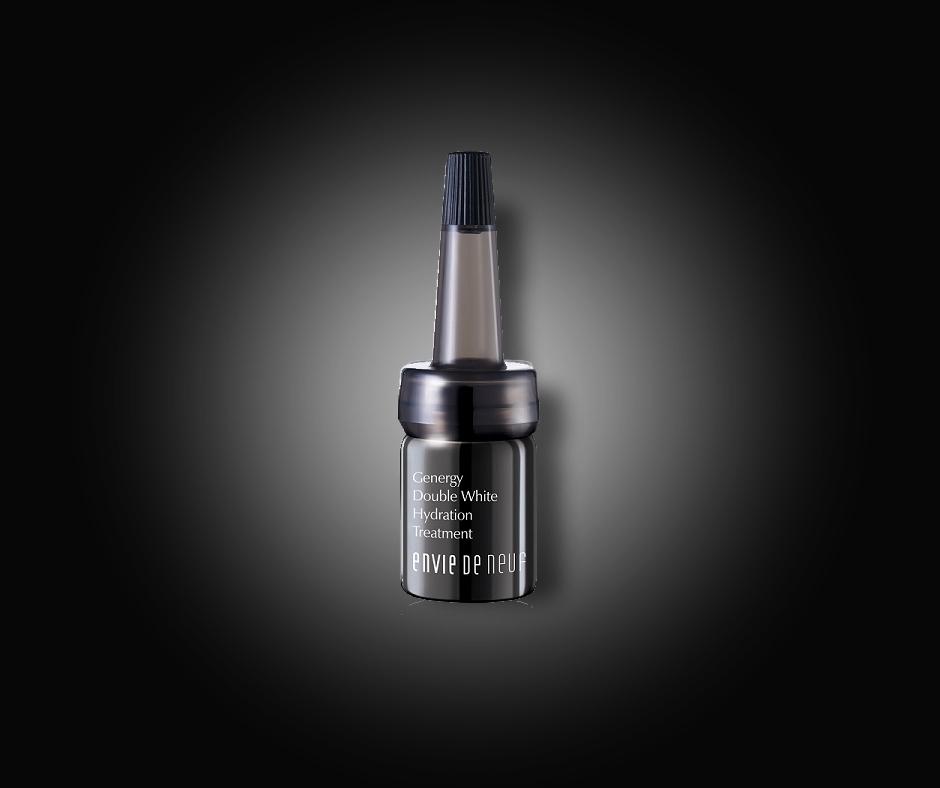 Genergy Double White Hydration Treatment/6ml
鑽光能量煥采安瓶
---
Genergy Double White Hydration Treatment/6ml
調校膚色 立透鑽光白
以專為亞洲肌膚設計的Actiwhite肌因亮白因子為前導,搭配萃取自7種瑞士天然高山植物的山花精,以自然的方式改善暗沉,抗老化。 另外添加Hydroxy Prolisilane CN 緊緻彈力網,促進肌膚活化,回復彈力緊緻;多重高效成分拉起亮白修護網,快速回復無瑕白皙水潤狀態。
功效:Actiwhite肌因亮白因子、Alpaflor Gigawhite 高山植萃山花精、Hydroxy Prolisilane CN 緊緻彈力網、Glycoderm(p) 保濕微脂體、甘草酸二鉀、庫拉索蘆薈液汁
使用方法:夜 / 日
---
A multi-action moisturizing serum that restores a look of health, radiance and vitality.
Powered by ingredients chosen for their ability of moisture supply, this serum supports the restoration of the lipid barrier of dry and fissured skin to defy water loss. Sodium Hyaluronate and Glycoderm, a liposomal moisturizer containing biotechnologically produced hyaluronic acid and natural blossom honey, provide polyvalent approach toward skin to bind water. Compound of Pea Extract and Swiss Alpine plants illuminate skin tone mildly yet effectively. Smooth, sumptuous texture blends into skin easily,help skin feel hydrated, radiant, soothed and soft.
Functional Ingredients:
HYDROLYZED SODIUM HYALURONATE, HONEY (MEL), PHOSPHOLIPIDS, SPINCOLIPIDS, HYALURONIC ACID, PISUM SATIVUM EXTRACT, DIPOTASSIUM GLYCYRRHIZATE, ALOE BARBADENSIS LEAF JUICE, MALVA SYLVESTRIS (MALLOW) FLOWER/LEAF/STEM EXTRACT, MENTHA PIPERITA (PEPPERMINT) LEAF EXTRACT, PRIMULA VERIS EXTRACT, ALCHEMILLA VULGARIS EXTRACT, VERONICA OFFICINALIS EXTRACT, MELISSA OFFICINALIS LEAF EXTRACT, ACHILLEA MILLEFOLIUM EXTRACT
Other ingredients:
AQUA (WATER), DEHYDROACETIC ACID, ASCORBYL PALMITATE, TOCOPHEROL, LECITHIN, HYDROGENATED PALM GKYCERIDES CITRATE, GLYERIN, SUCROSE DILAURATE, POLYSORBATE 20, METHYLSILANOL HYDROXYPROLNE ASPARATE, HYDROXYETHYLCELLULOSE, DIMETHICONOL PATHEENOL, ALLANTOIN, TETRASODIUM EDTA, XANTHAN GUM, CITRIC ACID, ALCOHOL, METHYLPARABEN, PHENOXYETHANOL, SODIUM HYDROXIDE, FRAGRANCE
Skin Type:
For all skin types, especially skins with problems of drying, dullness and uneven texture.
Directions:
Use morning and evening on cleansed and toned skin. Take 2-3 drops and smooth over face and neck and pat gently with fingertips for complete penetration. Can be used with beauty equipment once or twice per week to enhance the result.
Caution:
For external use only. Re-cap well after use and use up the product within one week after opening. Discontinue use if discomfort or rashes occur. Store in a cool and dry place. Avoid direct sunlight and heat. Keep out of reach of children