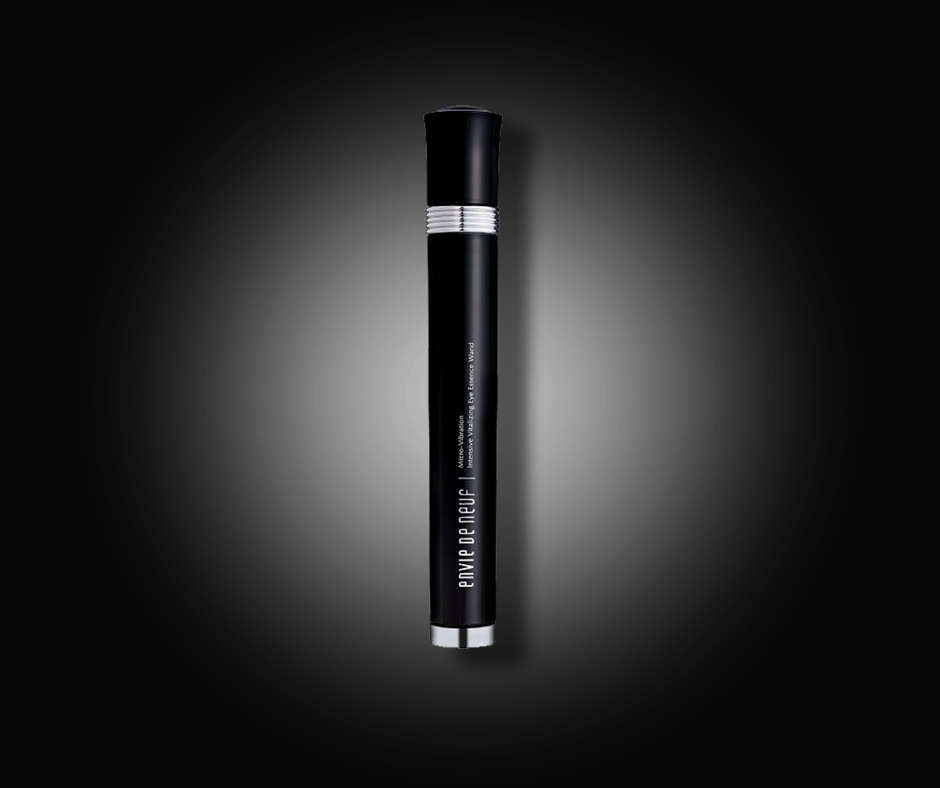 Micro-Vibration Intensive Vitalizing Eye Essence Wand/10ml
Micro-Vibration Intensive Vitalizing Eye Essence Wand
Formulated with a series of potent ingredients featuring Ceramide complex, a derivative of flavonoid Hesperidin, Caffeine and two precious algae extracts—Aphanizomen Flos Aquae and Dunaliella Salina, this eye serum works synergistically to help repair visible damage around the eyes on six levels : moisturizing, smoothing wrinkles and fine lines, de-puffing, brightening, improving natural circulation, promoting a protective barrier.
Innovative metal rollerball wand coupled with micro-vibrating massage technique cools upon contact, distributes skin circulation build-up and helps full absorption of the nutrients.
Ingredients
AQUA (WATER) CHAMOMILLIA RECUTITA (MATRICARIA) FLOWER WATER, ROSA CENTIFOLIA FLOWER WATER CITRIC ACID, BUTYLENE GLYCOL GLYCERIN, PVM/MA COPOLYMER GLYCERYL ACRYLATE/ACRYLIC ACID COPOLYMER PROPYLENE GYYCOL HYDROXYETHYCELLULOSE, HAMAMELIS VIRGINIANA (WITCH HAZEL) LEAF EXTRACT, HESPERIDINI METHYL CHALCONE, STEARETH-20, DIPEPTIDE-2, PALMITOYL TETRAPEPTIDE-7, SODIUM HYALURONATE, DUNALIELLA SALINA EXTRACT, ALGAE EXTRACT, CAFFEINE, COFFEA ARABICA (COFFEE) SEED EXTRACT, LECITHIN, CERAMIDE 1, CERAMIDE 3, CERAMIDE 6 II, PHYTOSPHINGOSINE CHOLESTEROL, SODIUM LAUROYL LACTYLATE, CHAMOMILLIA RECUTITA (MATRICARIA) FLOWER EXTRACT, ALLANTOIN, HYDROLYZED SCLEROTIUM GUM, DISODIUM EDTA, PROPANEDIOL, SALIX ALBA BARK EXTRACT, PENETYLENE GLYCOL, CAPRYLYL GYLCOL, DECYLENE GLYCOL, TRIETHANOLAMINE, POLYOXYETHLENE HYDROGENATED CASTOR OIL, CARBOMER, XANTHAN GUM, IODOPROPYNYL, BUTYLCARBAMATE, SODIUM METHYLPARABEN, PHENOXYETHANOL, SODIUM BENZOATE, POTASSIUM SORBATE, FRAGRANCE, METHYLPARABEN, PROPYYLPARABEN.
Directions
Press on the end of the wand to start the micro-vibration massage mode. Gently roll under each eye from the inner corner to outer corner 2 or 3 times, gradually widen the massage circle over the top of the cheekbones to enhance circulation. Can be refilled with extra eye serum to continue the use as a beauty device on the go.
微震瞬導美眼精華筆
---
Micro-Vibration Intensive Vitalizing Eye Essence Wand
主要成分:洋甘菊花水、金縷梅萃取、Eyeliss眼周緊緻精華素 (橙皮苷、二胜肽、四胜肽)、玻尿酸、杜氏鹽藻萃取、藍綠藻萃取、咖啡因、小果咖啡籽萃取、神經醯胺複合物(神經醯胺1,3,6II型、植物鞘氨醇、膽固醇)、洋甘菊萃取
功效:音波微震導入可加速有效成分吸收,提升保濕度、撫平細紋、抗皺緊緻,使眼周肌膚平滑、
柔嫩有彈性。滾珠設計易使用。礙眼問題,點線擊破。
使用方法:日/夜
注意事項:敏感肌膚請小心使用。若有不適感或肌膚異常反應,建議您暫停使用,必要時請諮詢皮膚科醫師。
10ml NT$1,800
瑞士SGS檢驗報告